~ "Stay in the forest" Extraordinary experience ~ Glamping site Open in winter!
"Kazenokuni" where abundant nature spreads over a vast site of about 33ha
A new glamping facility has opened here on Friday, September 20, 2019.

A tent like a secret base appears in a corner of the forest where conifers stand.
Three spherical tents and two dome-shaped tents are permanently installed.
Beds and tables are also installed in the tent for a comfortable stay.

At night, a lit up tent emerges in the dimly lit forest, making the area even more fantastic.
A special accommodation experience you won't find anywhere else ...
Please enjoy the healing time spent in nature.

It is also open in winter, so it is recommended for those who want to enjoy winter glamping!
(Depending on the weather, you may not be able to stay at the glamping site)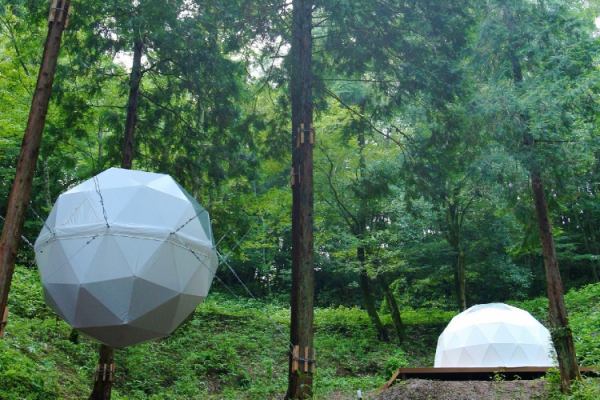 Fare

From 15,000 yen per person when using 2 people/Tax excluded (1 Night/ 2 Meals Included)


Capacity

2 people

Size

Sphere tent, 6.14㎡
Dome tent, 9.33㎡

Number of rooms

Sphere tent, 3 units
Dome tent, 2 groups

Smoking or Non-smoking

All Rooms Non-Smoking

Check In

15:00

Check Out

Until 10:00 the next day

Guest Room Equipment・Supplies

2 single beds, side table, power supply (100V), free Wi-fi, lantern (moving lighting), umbrella bag, hanger, water basket, insect repellent spray, 2 bottles of water, face towel, bath towel, shampoo , Rinse, body soap, hair dryer, toothbrush, cotton, cotton swab, hair rubber, razor, yukata
※Some amenities are available in the hot springs.
"Bonfire de Hygge"

A new plan appears this winter!
Why not enjoy a hot drink and a starry sky while warming over a bonfire?
Every Saturday, a plan to enjoy a bonfire as an option exclusively for guests staying at the glamping site has started!

point1 Customer limited plan using Glamping
point2 Now on sale for a limited time! 3,980 yen ⇒ 2,500 yen(Tax excluded)
point3 Hot chocolate or mulled wine gift(For 2 people)

Cautions
Reception hours until 20:00(The implementation time will be up to 21:00)
Rainy weather will be canceled

Please enjoy a special time while feeling nature up close in the Kazenokuni.


For guests staying at the Glamping site,
Special gift of Italian brand MARVIS toothbrush & mint SET!

【About MARVIS】
MARVIS is a dental care brand that was born in Florence, Italy and has been loved for a long time in Italy and Europe.
Featuring an innovative package rich in fashion and a variety of flavors.
A stylish design full of Italian style can be enjoyed as an interior decorating the bathroom.
It will make your daily brushing time wonderful.

*The toothbrush is not disposable, so please take it home and continue using it.
*MARVIS products have not been tested on animals and do not use artificial colors.

※Since the number is limited, it will end as soon as the number is reached.
About breakfast

【Picnic breakfast】
~A picnic-style breakfast in nature~
Popular yogurt in Shimane "Morning of Iwami", boiled eggs from Shonan-cho,
Other salads, bread jams, fruits and drinks are also in the basket
You can enjoy it anywhere you like in the facility.
When the weather is nice, dining in the green garden with natural grass is recommended!

About dinner

--- Summer dinner menu --- Available from April
【Japanese Grand Ping】~BBQ dinner at an extraordinary day at an outdoor restaurant surrounded by nature~

Enjoy Japanese food with glamping Japanese food x glamping!
The menu with plenty of Iwami and Gotsu's goodies
In addition to BBQ, the real pleasure of camping, you can also enjoy seasonal pot rice!
In addition, please enjoy all 6 items including salads and appetizers using local vegetables.

~Some of the dishes use tableware from the Miyauchi kiln, the Iwami-yaki kiln~
 It is a menu where you can feel the charm of Iwami and Gotsu throughout the meal.

Dinner is served in the garden kitchen.
All meals are prepared at the table so you can relax and enjoy your meal.
(Drinks are ordered individually)

※Some menus must be prepared by the customer. (Easy things like warming)
※Depending on the weather and season, meal locations may change.
※The menu image is an image.
※Menus are subject to change depending on the season and purchase situation.
About bathrooms and toilets

There is no bathroom or toilet in the tent.
For bathing, please use the hot spring in the basement of the main building, and the washroom and toilet in the outdoor washroom near the glamping site.

About bringing in luggage

Large luggage cannot be brought in because the entrance to the tent or inside the tent is small.
Please feel free to ask for luggage at the front desk.

About management of valuables

There is a key at the entrance to the tent, but there are no safes in the tent.
Please manage your own valuables. The facility is not responsible for lost or damaged items.

Other

※The tent is strictly prohibited.
※We do not currently accept pets.
※The glamping site is completely non-smoking.
※The sphere tent may be shaken by the wind.